Sweats, cereal, and lots of sitting. Anyone who's ever worked from home knows what the typical day looks like and that it does come with plenty of downsides. Really, how are you supposed to make lunch when you're watching a movie and trying to make it through your to-do list? Ahead, check out some of the ugliest problems that will make you want to run to the office, stat. (C'mon, who are we kidding?)
#workfromhomeproblems = #petproblems.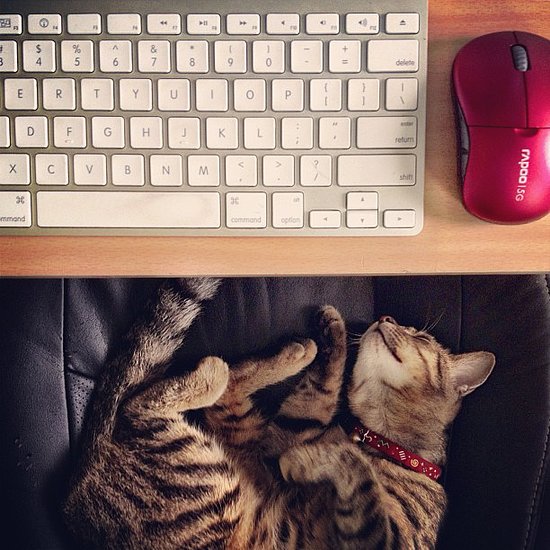 Uh, excuse me, you're in my seat. #workfromhomeproblems
Question of the day, every day.
"How many people showered today?" -heard on a company call this afternoon #workfromhomeproblems

— Taryn (@taryngotham) September 12, 2013
When you have to choose between your favorite morning shows . . .
dammit. @TheViewTV is on at the same time as @Bethenny here in #NYC. not fun. #WorkingFromHomeProblems #TalkShowRoulette

— Jamie Grayson (@TheBabyGuyNYC) September 10, 2013
Keepin' it classy.
Looking super classy getting gas in my Tinkerbell PJ's at 11:15 am... #ISwearIHaveAJob #MondaysAreHard #WorkingFromHomeProblems

— Tara Rushmer (@TaraRushmer) September 16, 2013
So people really do use their printers.
a miracle has just occured. I set up my uber complicated printer ALONE and it WORKS. #workingfromhomeproblems

— shannon kozee (@shankakes) March 28, 2013