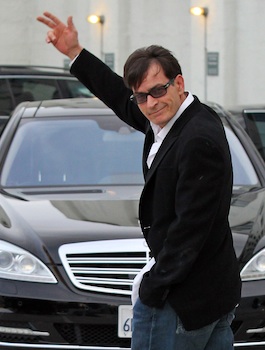 SugarSugar.com, the
site that connects with wealthy men with young women
willing to exchange "companionship" for
Prada
, is praising
Charlie Sheen
for living the dream and asking for his support to help other men realize it.
Paul Madison, founder of SugarSugar, penned an open letter to Sheen, saying he's an inspiration to men everywhere even if they are "socially obligated to deny it."
"It's a shame so many men feel forced to deny themselves the pursuit of happiness. Though happiness is defined differently by each individual — financial success, self-worth, creative expression — the common foundation is our appetite for women."
And SugarSugar believes Charlie Sheen is a role model to men who haven't realized their self-worth: the power of "knowing they can have any woman they want." How so? Read the rest below.