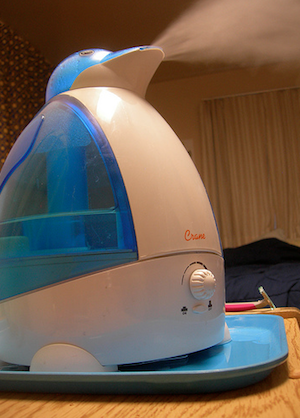 Spring may be right around the corner, but don't let your guard down just yet — cold season is still in full effect! The combination of dry Winter's air, a turned up thermostat, and closed windows can wreak havoc on your respiratory system.
The best way to combat dry air and reduce your susceptibility to infection is to invest in a humidifier. Aside from babies and my parents, I didn't know why someone like me would benefit from using one. But, after a few too many colds throughout the past few months, I knew it was time to see what this said "miracle gizmo" was about. Here's what's great about humidifiers:
Yummy moist air: Thanks to the nice hydrated air a humidifier creates, the insides of your nose and lungs will stay moist, allowing the tiny hairs inside to block the dust and bacteria.
Aids in the healing process: Whether it be a cold, asthma, or allergies, a humidifier keeps your lungs more elastic and your nasal passages lubricated — both necessary in speeding up the healing process. For allergy sufferers, there are humidifiers that are specially designed to purify the air as well.
Here are more reasons why I love humidifiers.