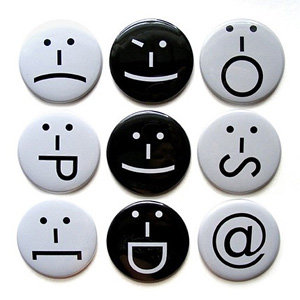 We're happy to present this article from our partner site Yahoo! Shine:
The young folks may not believe it, but emoticons — those silly strings of symbols that are supposed to illustrate emotions — have been around for 30 years.
Experts attribute their creation to a professor at Carnegie Mellon University in Pittsburgh, PA, who, in 1982, told his students that the class needed a way to label jokes online.
"I propose the following character sequence for joke markers: :-) Read it sideways," Scott Fahlman wrote on an online bulletin board (the precursor to what we call forums today).
PHOTOS: Pets Pretending to Be Emoticons
But some point to a New York Times transcript of an 1862 speech by Abraham Lincoln, in which "applause and laughter" is followed by a winky smile ";)".
Read on to learn more about emoticons and how they are used today.