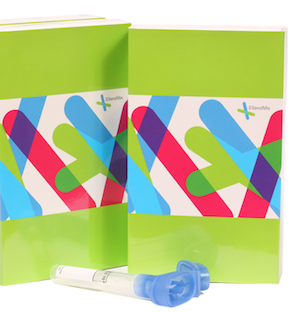 I finally bit the bullet, saved up my pennies, and purchased an item that's been on my wish list for the past year — a DNA Testing Kit from 23andMe.
This innovative contraption made it onto our February Must Haves list, but let me refresh your memory on the details of the test kit.
For $199 (down from their original price tag of $499), 23andMe mails you a kit, which includes detailed step-by-step instructions and the necessary materials. First, you create an online profile at the site and register your kit; then, you just need to spit in the provided tube, and mail it off to a fancy lab for analysis. From just a tiny saliva sample, using the latest DNA technology, scientists extract DNA from cheek cells in your saliva. From there, the DNA is copied multiple times so that it can be used in the genotyping step. Here's a more in-depth, scientific explanation on how the entire DNA analysis process works.