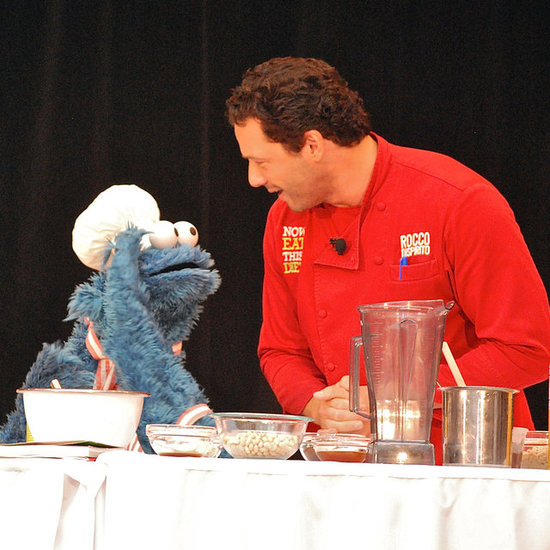 If Cookie Monster can be convinced to trade in his fat- and sugar-laden cookies for healthier versions, then shouldn't kids? Celebrity chef and author Rocco DiSpirito thinks so. He invited the beloved
Sesame Street
star and a gaggle of tots to the New York Public Library to prove that the low-calorie and low-fat treats don't sacrifice taste and still score big with kids. Chef DiSpirito spent the morning touting the benefits of natural sweeteners, such as agave nectar, and fat substitutes like apple butter — which has about half the fat of butter, oil, or shortening — to help lighten up kids' intake when they're eating sweets.
Though Cookie Monster did question the inclusion of cannellini beans in his chocolate-chip cookies (and made quite a mess while mixing up his batter — much to the kids' delight), the resulting cookies were quickly gobbled up by both the grown-ups and lil ones in attendance, leading me to wonder if Chef DiSpirito is on his way to starting his own Food Revolution here in the U.S.
Want to try your own taste test at home? Chef DiSpirito shared his oatmeal raisin cookie recipe, complete with apple butter, Cheerios, and puffed millet cereal to reduce the cookie's calories from 320 to 84 and fat content from nine grams to zero. Keep reading for the recipe.