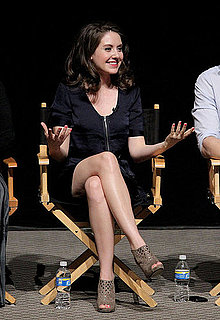 We
love Alison Brie
, better known as Trudy Campbell on
Mad Men
and Annie on
Community
. Not just because she loves to talk about sex but mainly. She wrote an essay about her worst sex ever for the book
Worst Laid Plans
that
Nerve has an excerpt
of. The worst? She tried to turn a gay man straight in art school, and failed.
She didn't give up on him though! Not even when he earnestly — yet so ironically — suggested they do it in the closet. "I wasn't about to let this little fairy destroy my hard-earned sexual legacy," she wrote. "I've made out with Mormon chicks, for Christ's sake!"
So whether it was your first time (or his) or sexual experimentation gone awkward, tell us about your worst laid plan.