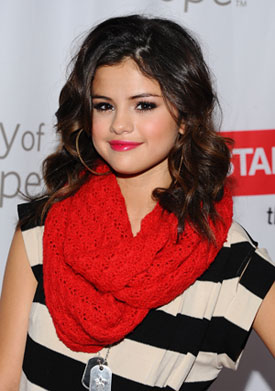 Disney teen queen
Selena Gomez
was
taken to task by Ellen DeGeneres today
for downplaying her relationship with Justin Bieber back in September, when she referred to him as her "little brother." It's kind of a creepy comment in retrospect, now that we've been privy to plenty of
dates
and un-sibling-like
PDA
between the two, but it's no wonder Selena would want to keep her Bieber fever under wraps for as long as possible — hell hath
no fury like a tween's scorn
for her heartthrob's other woman. Or something like that.
Selena may be the most recent famous girlfriend to receive angsty death threats, but she's by no means the first; Justin Timberlake's three-year relationship with Britney Spears, Joe Jonas's recently kaput fling with Ashley Greene, and Robert Pattinson's not-officially-official romance with Kristen Stewart have all sparked some pretty intense reactions among their respective fan bases.
I can almost relate: at the risk of dating myself, I boycotted No Doubt for a good six months when Gavin Rossdale started dating Gwen Stefani (I'm over it now, thanks). I'm guessing most of us don't harbor any ill will toward 18-year-old Selena, but have you ever felt resentful of a heartthrob's real-life mate? Tell me about it in the comments!