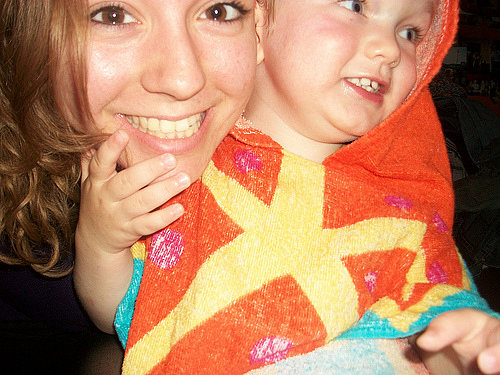 It's not always easy maintaining household harmony whether you have one — or more — children. When there's a teen and younger sibling around, it's especially difficult to tell what rivalry issues will arise. Older children also may resent having to take on extra household responsibilities or look after their younger brothers and sisters. For instance, "a baby is scary for a 14-year-old, and definitely not cool," says mom Karen S.  
On the other hand, younger children might resent not being able to do as much as bigger kids. Brandie P., for instance, says her 6-year-old daughter doesn't always understand that her older brother doesn't want to play all the time, and "she has a problem realizing that he is older and he knows more." 
To try to keep harmony at home, we turned to Circle of Moms members for some tips.
1. Give Your Teen Responsibilities
When you want your teen to help his younger sister or brother, Circle of Moms members say it helps to assign specific responsibilities so your teen knows how to assist but doesn't feel like someone's taking advantage of him. For instance, Melanie T. said her three kids were fighting all the time until she assigned the oldest some tasks. "I was at my wits end when I tried giving the oldest some responsibility for the youngest. Like at snack time, the oldest will serve the youngest, after bath he'll help dry off and dress the younger. Any responsibility he can do to aid in the younger I let him do. It has helped cut down the fighting and taught them to look at each other differently."  
"In [large] families, mine included, the older sib[lings] are expected to help with the younger ones," Tara K. agrees. While her older children are not expected to change diapers, enforce nap times, or help with feedings, they are expected to pick someone up who is hurt or upset, help with reading, and help around the house.  
This helps build the bond between siblings, Meagen P. agrees. Her 13-year-old son loves helping his 6-month-old sister. "He talks to her and holds her and is very involved," she says.