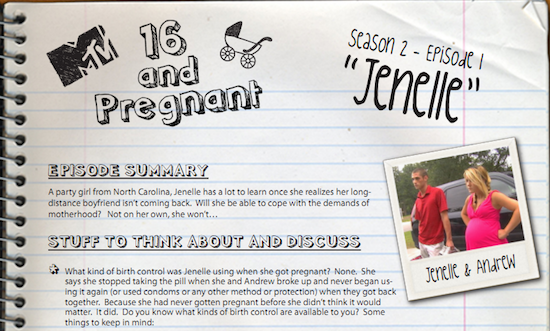 If you glance at a newsstand, you know MTV's
16 and Pregnant
and
Teen Mom
are fodder for the tabloids, but do the teen-pregnancy reality shows also make good teaching material?
The National Campaign to Prevent Teen and Unplanned Pregnancy
thinks so. Considering the popularity of the show, the group believes adults who work with teens should use
16 and Pregnant
as a learning tool. They've
created discussion guides along with MTV and StayTeen.org
to help.
According to The National Campaign's research, 82 percent of teens think the show helps them better understand the challenges of teen pregnancy and parenthood, while 15 percent think it glamorizes teen pregnancy. At the sex::tech conference in San Francisco last weekend, producers of the show, as well as representatives from The National Campaign, discussed what they think are the benefits of the show, in front of a skeptical audience. MTV producer Dia Sokol Savage called herself an "inadvertent activist" against teen pregnancy, while producer Morgan J. Freeman avoided an audience question about how much the teen mom stars are paid.
Find out more about how the show is used for sex ed, when you keep reading.