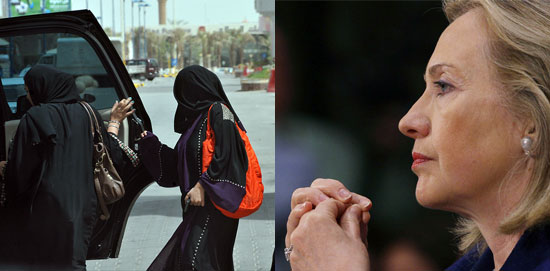 Last week women all the way in Kiev, Ukraine, came out to support Saudi Arabian women's right to drive by going topless and sticking their butts out the window in front of the Saudi Arabian embassy. Yesterday, the women's rights activists protesting the Saudi Arabian ban on women driving cars or bicycles added some more modest and high-profile support to their ranks when Hillary Clinton backed their efforts.
The secretary of state said, "What these women are doing is brave and what they are seeking is right." Hillary also added her personal feelings, explaining, "I am moved by it and I support them." Last Friday, women of the Women2Drive campaign protested the ban by going behind the wheel and defying it. On that day, Hillary placed a call to the country's foreign minister to discuss the protest.
Hillary may have spoken up in a response to an open letter the Saudi women sent her. They wrote: "In our opinion what has happened in Saudi Arabia over the last month — the launch of the largest women's rights campaign in Saudi history — constitutes a moment that calls for public diplomacy, a moment in which it is incumbent upon champions of women's rights like yourself to deviate from the norm." Do you think Hillary has an obligation to speak up?