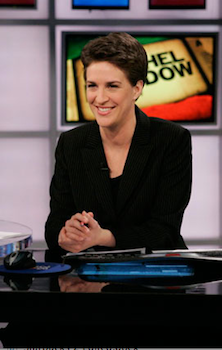 It's not easy being gay. Come out and risk homophobia-induced repercussions from backward-thinking straight (and gay) people; stay in and risk the scorn of the gay and lesbian community.
Yesterday The Guardian insinuated Rachel Maddow criticized a popular journalist for not being openly gay in an interview. "I'm sure other people in the business have considered reasons why they're doing what they're doing," she's quoted saying. "But I do think that if you're gay you have a responsibility to come out."
Maddow later called the paper out, saying she wasn't referring to anyone specific (and more specifically Anderson Cooper) or saying all gay people must come out. But in admitting that, she illuminated a dilemma gay people face with her three tenets of "the ethics of coming out." See what they are.