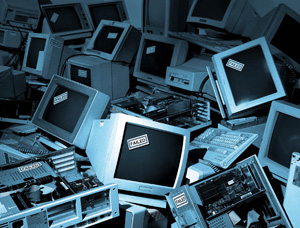 I just stumbled upon this
gem of a Newsweek article
from 1995. I love browsing through vintage finds, from
old magazine ads
to
television commercials of yore
. And coming across something tech-related is even funnier, given the pace at which development and innovation comes to the industry. This article is particularly great. Not only is it written in a bit of a curmudgeonly voice, but it's blatantly off the mark when it comes to predicting the future of the Internet:
"Visionaries see a future of telecommuting workers, interactive libraries and multimedia classrooms. They speak of electronic town meetings and virtual communities. Commerce and business will shift from offices and malls to networks and modems.

Baloney. Do our computer pundits lack all common sense? The truth in no online database will replace your daily newspaper, no CD-ROM can take the place of a competent teacher and no computer network will change the way government works."
To read my favorite sentence (it's hilarious!), read more