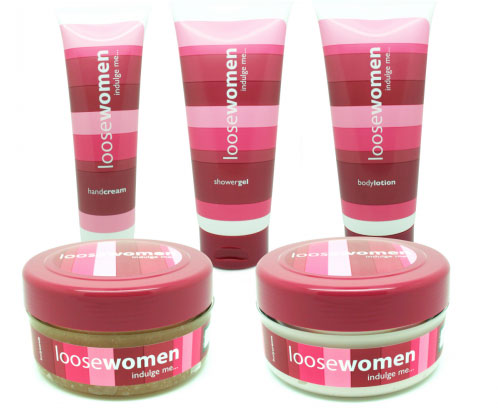 Loose Women
isn't quite how it sounds. In one context it has floozy connotations, but in another, it's actually a British lunchtime talk show with, as you might expect, a risqué twist. And like many TV-inspired beauty products, (
90210 nail polish
and
Mad Men lacquer
, anyone?), the long-running program even has its own
body care line
(about $16 to $49), consisting of items like shower gel, hand cream, and foot scrub.
The line includes the following scents:
Indulge Me — Contains hints of vanilla and caramel, and is guaranteed to "bring out the kitten in every cougar." Young ones do like their sweets.
Soothe and Relax Me — Formulated with soothing seashore scents, accompanied by the tagline: "With one squeeze all her clothes fell off — a real Loose Women!" Ahem, a real loose woman, indeed.
Zest and Refresh Me — An invigorating scent with notes of grapefruit. Instructions: "Apply regularly and wait for a large diamond to appear." I think I'll stick with Match.com, thank you very much.
Walk With Me — No tagline here, just some nice refreshing peppermint-scented foot cream and scrub to revitalize those toes. Am I the only one thinking about Twin Peaks?