With two little girls running around her Brooklyn home, Maggie Gyllenhaal is very familiar with the ubiquitous Johnson & Johnson First Aid Kit. The kit, which is celebrating its 125th anniversary this year, has come to the rescue of everyone from railroad workers (its original intended audience) to soccer moms over the past century. To celebrate the milestone anniversary, the star of the upcoming White House Down and mom to daughters Ramona, 6, and Gloria, 1, joined with Johnson & Johnson "Everyday Care" campaign to provide first aid safety information to families in need through Safe Kids Worldwide. The campaign — which consumers can support by creating their own custom First Aid Kits at CVS stores — will create five Sports Safety Clinic Kids' Zones across the country that educate kids about proper hydration and preventing sports injuries.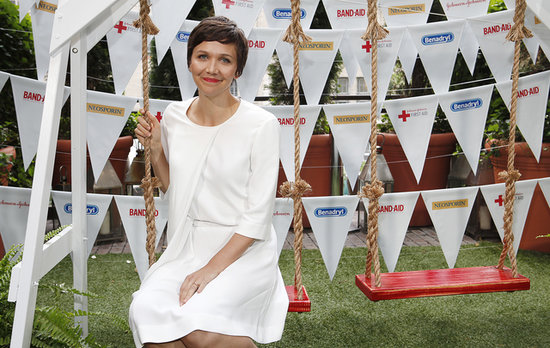 Though Maggie told us that she's been relatively lucky in the accident department so far, she knows the power of a Band-Aid to help a child, both physically and emotionally. "Sometimes though, I feel like they do want some attention and there is not much you can do," she said. "So to put on a Band-Aid [works]!"
Here are some more highlights from our conversation:
Maggie on her involvement with Johnson & Johnson: You just take for granted that there are first aid kits everywhere you go, and that there are Band-Aids and Neosporin. They are there when you need them, so it just seemed like a good fit.
Maggie on balancing her career and family: There was a project that I was thinking of doing that was in New York and it was OK, and then there is this thing I am going to do which is in London and it is fantastic. But, they worked it out for me that I can get her back to start second grade. What it took was me just saying, "Look, I really want to do this but I am a mother and I don't want her to start a week late." Because if you think about it from the perspective of a second grader, it is a huge deal. So I think that her dad [Maggie is married to Peter Sarsgaard] will probably take her back three or four days before me and then I will get back a few days before school starts and it will be fine. But I know my husband won't be able to clear all of her old stuff out of her room so we have to do that before we leave for London. [We will] get some new clothes for her for school in London — my husband he can do a lot of things, but he can't do that!
Maggie on her girls understanding the celebrity factor: Ramona . . . has been doing this interesting thing. I will be with my kids and people will say, "Can you take a picture with me?" And I will say, "No, because I'm with my kids and I don't want to ask my children to wait for you, you are a grown-up." But Ramona started doing this funny thing where she says, "Yeah, yeah you can!" I think she is joking me, like, "You can't get out of it if I say it!" If someone comes up to me and I start to smile, she'll say, "That's a fake laugh!"
Keep reading for more of Maggie's thoughts on juggling acting and motherhood, traveling with her girls, and what it's like working with Channing Tatum.