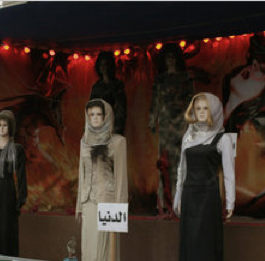 Our
fashion choices convey messages about who we are
. In Iraq, more conservative forces are not always happy with what they see. Since Saddam Hussein's demise, the
New York Times explains
, religious values have penetrated the previously secular society. That's brought calls for segregated universities, the closure of liquor stores, and pressure for women to dress in clothes that "will not inflame men's imaginations." The religious police have become the fashion police.
A new fashion exhibit, if that's what you can call it, is using mannequins surrounded by paper flames to show women what is not acceptable. The display reads: "Men who look at women in such dress become voracious monsters; women who wear it burn through eternity."
What type of clothing will beget monstrous men and melting women? The mannequins don long sleeves and hems, as well as high necklines, but apparently the blond wigs and colored scarves are enough to inflame imaginations, and thus cause condemnation. One Iraqi man summed up the situation as such: "I do look at women when I see them dressed up with tight jeans. That is one of the problems. It means the devil is doing a good job."