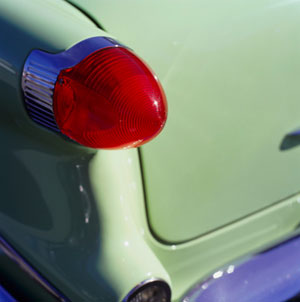 Imagine if you will, sleeping soundly in your bed with your boyfriend. Maybe you're spooning, maybe he's snoring, you're dreaming of kittens ice-skating...whatever.
Suddenly, a car crashes through your bedroom. Motor fluid sprays in your now-awake faces as you both struggle to get out from under the weight of the car, which now lies on top of you.
Well, that's exactly what happened to two Nevada college students last week when a drunk driver, thinking he was headed into the home his ex-girlfriend now shares with a new boyfriend, drove instead into their bedroom at 4 a.m.
Only Trent Wood's lower body was pinned by the car, but his screaming girlfriend Kristin Palmer's entire body was pinned. In less than an hour, thanks to neighbors who called 911, emergency workers removed the car from the couple. Wood says he was ecstatic he and his girlfriend only suffered minor scrapes and burns, and not paralysis as he feared.
He told a reporter, "When you experience something like that there's no limits anymore, you can try to do whatever you want to do. We feel like we have more of a purpose, like we were meant to live." I bet the drunk driver, who is up sh*t creek without a paddle (or car), has the opposite sentiment.