It's no secret that young-adult book series are having a pretty big moment right now, especially since many of them are going on to get the Hollywood treatment. Veronica Roth's Divergent is one of the most hotly anticipated adaptations of 2014, especially now that the movie has been cast, with Shailene Woodley taking the lead as heroine Tris. The story is set in a postapocalyptic Chicago, where society is divided into different groups called factions based on character traits (like Dauntless, Candor, and Erudite).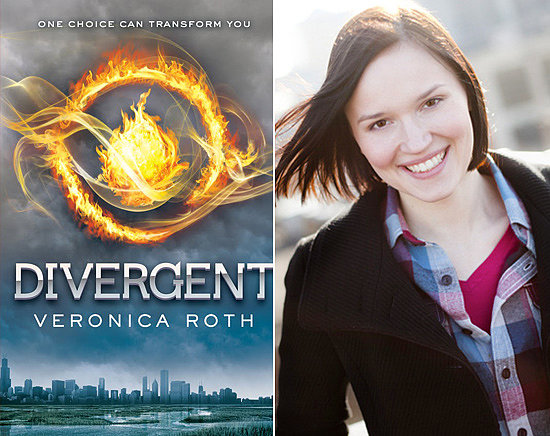 Roth wrote the the novel, which is the first in a trilogy (the third novel is out this Fall), while she was a student at Northwestern University. Naturally, watching her books grow in fandom and exposure has changed her life. I recently chatted with the author about the genesis of Divergent, her experience on the set of the film, and what she makes of comparisons between her work and the likes of The Hunger Games.
What's this whole experience been like for you, from writing Divergent in college to seeing it get made into a movie?
Veronica Roth: It's been amazing. It's obviously not what I was expecting when I was in my rubber ducky pajamas writing this first book on Winter break. It's been definitely kind of transformative. It's definitely changed me as a writer, and it's been really exciting.
When it comes to casting the movie and writing the screenplay, how hard is it to pass off your work to someone else?
VR: I think I was prepared for the difficulty of it. Obviously, it's always a challenge to give up the reins and let someone else take over, but I was also just so excited to see how other people would interpret the story and the world that every time I read a script or I saw the ideas that they were putting together for the movie, it was just really exciting, and kind of gave me a new perspective on what the world might look like or what the story could've been if I had written it a different way. It was really interesting and far more positive than I had originally anticipated.
Which casting do you think is the most spot-on?
VR: That's a good question. I think it's kind of a tie, and they did an incredible job on the leads. When I saw Shailene [Woodley] as Tris for the first time, I was like, "Yup! There it is. It's perfect." Even though she's not a tiny blond girl, I think she does a great job with it. And Theo James as Four, he looks just right and he acted just right. They've done a great job with those leads.
Have you had a chance to visit the set?
VR: I did! It was really amazing. I walked in and I was speechless for about two hours. And they kept trying to introduce me to people, and I would just stare at them because I was so stunned. It was really incredible to see the world realized in such great detail.
Did any of the actors want to pick your brain about their characters?
VR: A few of them were really interested in my analysis. I think it depends on the character; some of them are straightforward, but others, like Peter [played by Miles Teller], for example, are a little harder to understand, and I think they wanted to get a better grasp. And obviously I'm happy to talk that through with them. It's kind of a weird, surreal experience to do that.
To see which scenes Roth is most excited about and how she feels about The Hunger Games, just read more