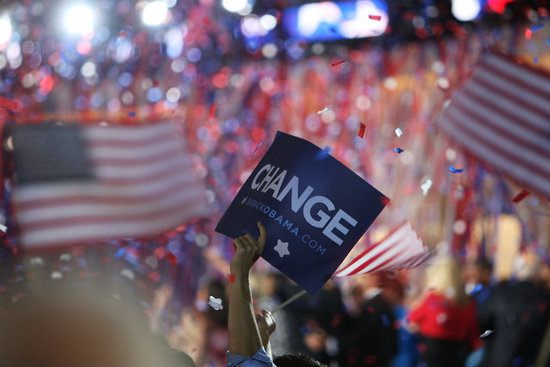 The Democratic National Convention, and the Obama-bump that followed, may seem far in the past, but the event will surely live on in history. I got a chance to ask a few questions to Mark Squier, an executive producer of the extremely successful (and fun) Democratic National Convention. When he's not coordinating massive political pageantry, Mark masters smaller-scale political messaging. He has produced ads for numerous members of Congress and governors, and acts as a strategic adviser to many more politicians. Now that the dust of both conventions has settled, take a behind-the-scenes look at the DNC with Mark!
On a scale of 1 to 10 how happy are you with how the DNC turned out?
10 being the highest — a 9. Nothing is ever perfect but this was close. When you consider we had a late primary so we didn't get guidance from a nominee until June — and we had two venues. We didn't have a major malfunction. You have to be happy with the way it turned out. And a shout out to everyone who worked at the Denver convention — the team that was put together was outstanding and it was easy to look good when you had such a committed and hardworking team in your corner. Oh — and not to mention Barack Obama — an incredible candidate to work with in every way.
How do you explain viewership that beat even the Olympics Opening Ceremony?
Americans are worried — it's human nature — they know things are on the wrong track; the wars, the economy, gas prices, health care costs, high unemployment, the national debt, the mortgage crisis. Voters feel these things every day and they know that this election is critically important to getting our nation back on track — so they watch.
To find out if Mark would have done something differently if Hillary Clinton would have won the nomination, how he kept the convention from looking like C-Span, what he thought of the RNC, and if there were any close calls with disaster, read more