Jane Fonda's back on the big screen in director Bruce Beresford's Peace, Love, & Misunderstanding. The picture, which is out in limited release this Friday, sees Jane playing Grace, the hippie matriarch of a family with three generations of strong women. Catherine Keener plays her straight-laced daughter, and Elizabeth Olsen is Grace's wide-eyed granddaughter. We caught up with Jane this week in NYC, and she wasn't shy about discussing any aspect of her storied past. Jane talked about her career and even her decade-long marriage to Ted Turner. As it turns out, Jane — who makes a conscious decision to project a glamorous image at age 74 — is also in the process of writing books about sexuality for middle- and high-schoolers. We learned a lot more about Jane during the conversation. Check out highlights below: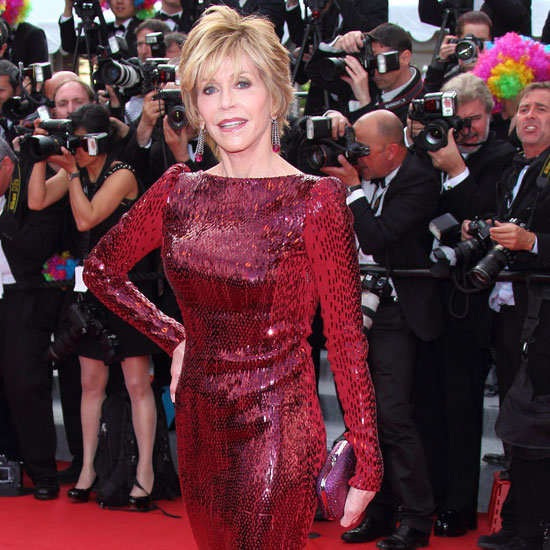 On how she expected 74 to feel: "Several years ago, I didn't even imagine I'd be alive at 74, much less starring in a movie. Everything is a surprise to me, including . . . that I am happier than I have ever been, and that certainly is not what I would have expected."
On being happy at this point in her life: "You know something — I will have to say that a chunk of it has to do with Ted Turner. Spending 10 years — you don't come out of spending 10 years with Ted Turner the same way that you went in. What that meant for me is that I come from a long line of depressed people — and so does Ted — but Ted is this rambunctious, over-the-top, funny person. He can be very outrageous. But I learned how to laugh with him, and I learned that it's OK to just be out there, and then you fall flat on your face, and then you get up! I don't know. Everything became lighter. Part of it has to do with Ted, and I am grateful for that."
On her similarities with her character Grace, and those family troubles: "It fits very well in the sense that I am a grandmother and I have had daughter issues that are resolved. As I get older, more and more I realize — is there anymore important in life than love and forgiveness? And the reason I wanted to do the movie, besides to work with Bruce Beresford and Catherine Keener, is that I wanted make a movie about love and forgiveness, and a movie that made you feel good when you left. Not that I don't like my special effects and everything."
On the availability of roles for women: "I think it's just beginning to get better in what could be a substantial way. I mean, it's a business. It's a market, and the marketers know that older women is the fastest-growing demographic. The fact is that Best Exotic Marigold Hotel has done hugely well. Meryl Streep's movies do hugely well financially. And I think that matters. I think that more and more television is making it possible for older women to be full, multidimensional people. I am always optimistic, and I think it's going to be better, yes."
To read more from Jane, including talk about her sexuality books for kids, the evolution of protesting, and making a conscious decision to be glamorous, just read more