Sep 19 2013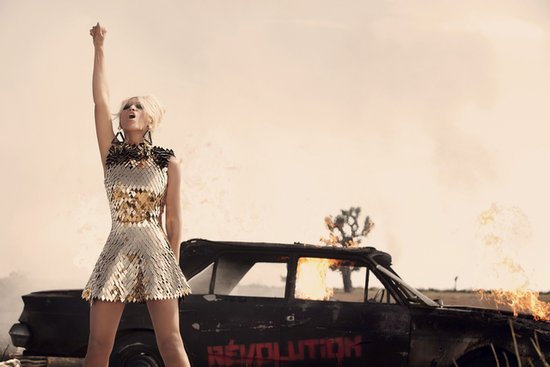 "You go, girl," has got to be one of life's best phrases. You can apply it at the office, at home with your momma, and definitely in the "I'm single" department. Because, really, there's nothing more empowering than a woman standing up for herself and embracing her single status. For a little boost in your day, we've put together a playlist that has "girl power" written all over it. And come to think of it, even if you're in a relationship, these songs will apply to you, thanks to their positive messages. So hit play and get ready to roar sing your heart out.
"I'm Every Woman," Chaka Khan
"Man! I Feel Like a Woman!" Shania Twain
"Independent Women," Destiny's Child
"Girl on Fire," Alicia Keys
"She Wolf," Shakira
"Video," India.Arie
"Unwritten," Natasha Bedingfield
"B*tch," Meredith Brooks
"No Scrubs," TLC
"Respect," Aretha Franklin
"Firework," Katy Perry
"Can't Hold Us Down," Christina Aguilera featuring Lil' Kim
"Run the World (Girls)," Beyoncé
"Hit Me With Your Best Shot," Pat Benatar
"You're So Vain," Carly Simon
"Just a Girl," No Doubt
"You Don't Own Me," Lesley Gore
"Stronger (What Doesn't Kill You)," Kelly Clarkson
"I Will Survive," Gloria Gaynor
"Bossy," Kelis
Keep reading for the rest of the songs and the Spotify playlist!
"My Lovin' (You're Never Gonna Get It)," En Vogue
"Control," Janet Jackson
"My Prerogative," Britney Spears
"Nobody Ever Told You," Carrie Underwood
"Beautiful," Christina Aguilera
"Fly," Nicki Minaj featuring Rihanna
"Wannabe," Spice Girls
"A Woman's Worth," Alicia Keys
"Skyscraper," Demi Lovato
"Just Fine," Mary J. Blige
"Baggage Claim," Miranda Lambert
"Irreplaceable," Beyoncé
"F*ckin' Perfect," Pink
"Express Yourself," Madonna
"What's Love Got to Do With It," Tina Turner
"Fighter," Christina Aguilera
"Who Says," Selena Gomez
"Milkshake," Kelis
"F*ck You," Lily Allen
"Single Ladies (Put a Ring on It)," Beyoncé