Reading Goals For 2013
7 Ways to Get Your Reading on in 2013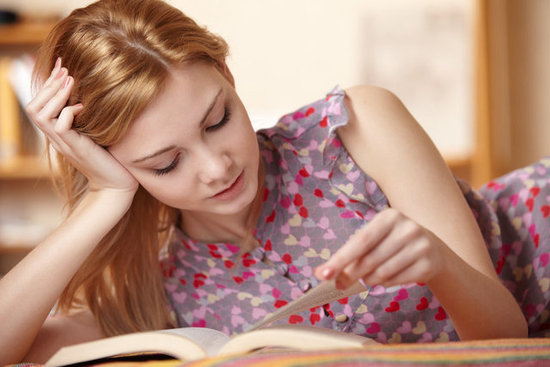 If you're hoping to expand your reading in the New Year, look no further than these book-related resolution ideas! Going beyond the standard "read more" goal, we're diving into some fresh, creative ways to make this your most bookish year yet. Can't seem to think of a meaningful resolution? Check out these seven fun ideas for inspiration to get your reading on in 2013! (And if you need some reading recommendations, we've rounded up the most promising books out in January.)
Read at least one book each month. Reading is all about time, so to make books a priority, you'll have to carve a few hours out of your schedule every week. Make it a nightly bedtime habit — as second nature as brushing your teeth — and you'll find plenty of time to check out a new title each month.
Start a book journal. Elaborate on your reading by creating a book journal filled with quotes, questions, or bits of inspiration. Use it to jot down notes, list must reads, or free write on the topics you're reading about. At the end of the year, you'll have a great record of everything you've learned, plus a good grasp on what interested you most.
Read the books before the 2013 movie releases. Always plan to read a book before the movie comes out, but never seem to find the time? Think ahead this year! Check out the 2013 book-turned-movie releases, mark your calendar, and stock your shelves now to make sure you're all caught up by the time the films premiere.
Dive into a new genre. It's great to find a genre you love and stick with it, but why not make this the year you surprise yourself? Ask a few of your pals what they're reading and find a suggestion from someone who prefers a genre you've never read. Who knows, maybe you'll be totally into the vampire craze after all.
Keep reading for more 2013 reading ideas.
Support the local library. Take a break from your ebook and head to a nearby library. Not only is it a great way to save some money and access plenty of books, but librarians can suggest a variety of reads you may not think to grab yourself. In other words, you won't need to buy a brand-new book to try something different.
Reread favorites from your childhood. For old times' sake, turn to some of your childhood standbys. Rereading an old favorite will provide a nice break from more intense books, and chances are you'll find a lesson or two in those old illustrated reads.
Start a book club. Invite a few of your most bookish friends to get together once a month for book club. Ask a different member to choose a book and host the group each month — when a variety of people host, you'll have a chance to meet new people. Besides, a regular commitment is the perfect incentive to get reading, and it's a great excuse to see your pals.
Read any good books lately? Share your favorite page-turners on Instagram using our tag #TresReads. And don't forget to follow TrèsSugar on Instagram!