The History of the Wedding Ring
What Do You Know About the History of the Wedding Ring?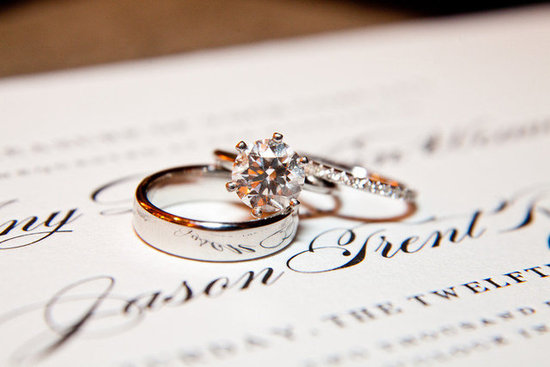 Wedding rings have been around so long that we rarely question why or how they came about. Their history extends about as far back as civilization itself, so see what you know — or can guess — about the origin of the wedding ring.
Photo by Samuel Lippke Studios via Style Me Pretty
True or False: The wedding ring has always been worn on the third finger of the left hand.
Why is the ring a circle?
It represents the binding contract of marriage — no way out!
It has not always been; it's just one of many styles that stuck.
It's a symbol for eternity. It has no beginning and no end, like time.
At what age did the youngest known bride-to-be first wear a ring?
Why is the ring worn on the third finger of the left hand?
Because of an ancient (and erroneous) believe that the left hand held a vein that ran directly to the heart.
To protect the ring. Since more people were right-handed, it was believed to be safer on the left.
The left hand denotes subjection of wife to husband.
Real or Fake: A common German proposal went like this "I give you this ring as a sign of the marriage which has been promised between us providing your father gives with you a marriage portion of 1,000 reichsthalers."
When did engraving rings become popular?
Ancient Egyptian — if Egyptians could do hieroglyphics, they could engrave a wedding ring.
Medieval Europe — it became fashionable to add a line of posy inside the ring.
The Renaissance — it became popular to add a religious or poetic quote to the outside of the ring. The inside came later.
The 20th century — increased technology made engraving easy and cheap.
What were the first wedding rings made of?
True or False: Christians have always used rings in wedding ceremonies.
Link Love