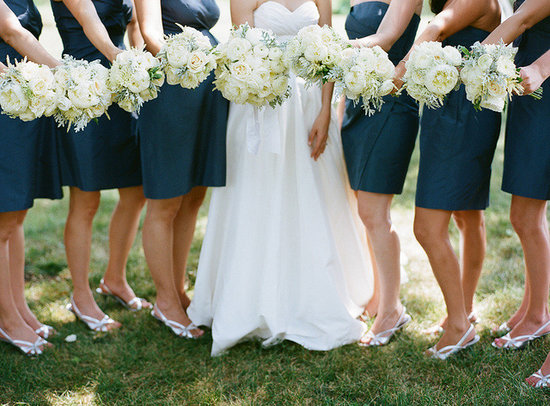 Whether you're a first-time bridesmaid this wedding season or have 27 dresses hanging up in the back of your closet, it's good to keep in mind bridal party faux pas. So we chatted with real brides to find out their pet peeves. Here are 10 things you didn't realize were annoying the bride in your life, plus practical tips for avoiding these mistakes.
Being MIA
Why it's annoying: By not responding to emails, missing showers, or skipping out on favor-making night, you are slacking on your duty to support the bride and might make her regret asking you in the first place.
How to avoid it: You don't need to drop everything else in your life to be a bridesmaid, but you should make it a priority. It doesn't take much effort to reply enthusiastically to her emails with wedding details, and if you can't make a shower or bachelorette party, go the extra mile and send along a gift or card after picking up the phone to tell her why you won't be able to make it.
RSVP'ing For a Plus One Who Wasn't Invited
Why it's annoying: As VIPs, bridesmaids should have leeway to invite a guest. But it's not respectful to just assume if your invite is addressed to just you.
How to avoid it: Talk to the bride about it. Explain you have a guy in your life you think would get along well with everyone. If he's someone you're hoping to take things to the next level with, she'll likely support your quest to find love like she has.