'90s Slow Dance Songs
Relive Awkward School Dances With These '90s Songs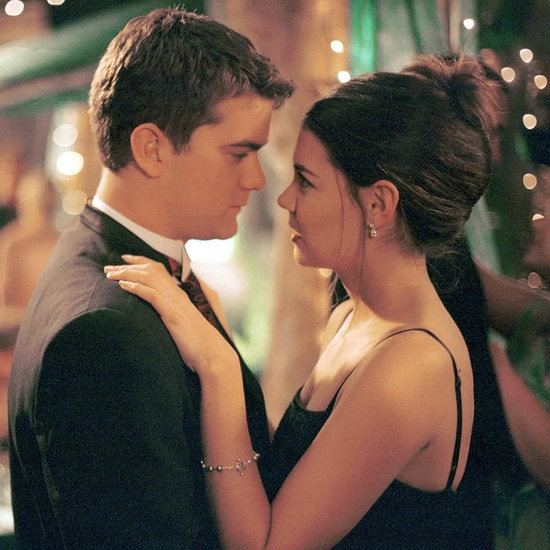 Sure, the '90s were all about the bump 'n' grind songs. But while you giggled with your best friend over the racy lyrics, they certainly had no place at school dances where a chaperone would step in if any funny business went down. No, that playlist was reserved for cheesy slow songs, prompting you to grab a boy or girl and awkwardly put your arms around each other and shuffle your two left feet. Now that classes are back in session, we can't help but revisit those days with jams that will instantly transport you back to the school gym. So grab your honey, pop in that breath mint, and hit play.
"You Were Meant For Me," Jewel
"Truly Madly Deeply," Savage Garden
"(God Must Have Spent) A Little More Time on You," *NSYNC
"I Do (Cherish You)," 98 Degrees
"I Swear," All-4-One
"My Heart Will Go On," Celine Dion
"I Don't Want to Miss a Thing," Aerosmith
"How Do I Live," LeAnn Rimes
"Weak," SWV
"Angel of Mine," Monica
"From This Moment On," Shania Twain
"I Will Always Love You," Whitney Houston
"Hero," Mariah Carey
"End of the Road," Boyz II Men
"Back at One," Brian McKnight
"Kiss From a Rose," Seal
"Girl on TV," LFO
"I Still Love You," Next
"When Can I See You" Babyface
"Iris," Goo Goo Dolls
Keep reading for the rest of the songs and the Spotify playlist!
"I Can Love You Like That," All-4-One
"All My Life," K-Ci & JoJo
"Angel," Sarah ‪McLachlan‬
"I Want It That Way," Backstreet Boys
"Cupid," 112
"Kiss Me," Sixpence None the Richer
"Amazed," Lonestar
"You're Still the One," Shania Twain
"My All," Mariah Carey
"Under the Bridge," Red Hot Chili Peppers
"She's All I Ever Had," Ricky Martin
"Because You Loved Me," Celine Dion
"Here and Now," Luther Vandross
"(At Your Best) You Are Loved," Aaliyah
"You Sang to Me," Marc Anthony
"Breathe Again," Toni Braxton
"2 Become 1," Spice Girls
"Dreaming of You," Selena
"I Will Come to You," Hanson
"More Than Words," Extreme